CURRENT RELEASEs
Au Revoir 2020 Cabernet Sauvignon, Palisades Vineyard

Our Au Revoir 2020 Palisades Vineyard Cabernet Sauvignon was made from grapes grown on our head-trained vines planted along the banks of Horns Creek near the town of Calistoga. Grafted on St. George rootstock with budwood from exceptional Napa Valley legacy vineyards, our vines thrive on the property's rocky volcanic and alluvial soils. Hot days and cool nights make the vineyard ideal for growing Bordeaux grape varieties.
This wine is layered with ripe blackcurrant, cassis, black pepper, tea leaf and baking spices. It is medium to full bodied with laser-like precision across the palate leading into a long complex framework, with building intensity and presence.
Recommended pairings: Pair this lovely wine with Yassa, a Senegalese stew typically made with meat or fish, onions, garlic, hot chilis, ginger and lime juice. For a vegetarian take on Yassa, substitute eggplant, mushroom and carrot. This dish will send your taste buds reeling with delight when enjoyed with a bottle of our Palisades Vineyard Cabernet Sauvignon.
• 115 Cases Produced
• 91% Cabernet Sauvignon, 8% Cabernet Franc and 1% Petit Verdot
• Native Yeast Fermentation
• Aging: 20 Months in French Oak
• Alcohol: 14.5% by Volume
• Bottling Date: June 3, 2022
• 100% Palisades Vineyard
• Calistoga AVA
Au Revoir 2020 Merlot, Veeder Ridge Vineyard

Our Au Revoir 2020 Merlot from Veeder Ridge Vineyard comes from grapes harvested from the northeast side of our Mount Veeder property. This side of our ridge gets gentle morning sun and warm, light afternoon breezes. Like the southwest side of the ridge where our Cabernet Sauvignon and Petit Verdot were planted, the vines benefit from a cool summer fog which extends the growing season, cools the fruit and leads to a balanced and complex wine.
This wine jumps from the glass with layers of black cherry, wild strawberries, savory herbs, cracked pepper and forest floor. Secondary flavors of plum and bittersweet chocolate emerge with mouth-watering freshness and fine mountain tannins. A classic Mount Veeder Merlot, this wine is full of tension and built to age.
Recommended pairings: You could keep this simple by grilling filet mignon with spring onions, fennel, and red peppers, served along with red potatoes roasted with garlic and rosemary. Or you could make things interesting by pairing this wine with a meal of spicy Tinga de Pollo—shredded chicken in a sauce made with tomatoes, onions, garlic and chipotles in adobo.
• 70 Cases Produced
• 100% Merlot
• Native Yeast Fermentation
• Aging: 20 Months in French Oak
• Alcohol: 14.5% by Volume
• Bottling Date: June 23, 2022
• 100% Veeder Ridge Vineyard
• Mount Veeder AVA
Au Revoir 2019 Cabernet Sauvignon, Veeder Ridge Vineyard

Our Au Revoir 2019 Cabernet Sauvignon from Veeder Ridge Vineyard was made from grapes harvested from choice blocks of our 17-acre estate. Planted on steep terraces overlooking the San Francisco Bay on the southern flank of Mount Veeder by George Rubissow in the 1980s, the vines benefit from summer fog which extends the growing season, leading to balanced and complex fruit.
A dense mountain wine with a mouth-watering core of black cherry, hints of wild sage, black pepper and bitter chocolate. Full of vitality on the palate supported by classic Mount Veeder structure and layers of cassis, dried herbs and mineral undertones. Powerful enough to cellar, but so delicious right now it demands another glass.
Recommended pairings: pan fried flank steak marinated in lime juice, Worcestershire sauce, minced garlic, cumin, chili powder, and olive oil; or broiled portobello mushrooms stuffed with blue cheese, cherry tomatoes and fried breadcrumbs, served with a balsamic vinegar reduction sauce.
• 190 Cases Produced
• 89% Cabernet Sauvignon and 11% Petit Verdot
• Aging: 18 Months in French Oak (100% New)
• Alcohol: 14.8% by Volume
• Bottling Date: June 30, 2021
• 100% Veeder Ridge Vineyard
• Mount Veeder AVA
Au Revoir 2020 Chenin Blanc, Palisades Vineyard

With this release of Au Revoir 2020 Chenin Blanc, we celebrate the renewal of our vineyards and herald the potential of our young vines to produce fine wines in the years to come. Grafted in 2018 onto St. George rootstock, we farm our Chenin in the traditional, head-trained style of historic Napa Valley, where Chenin was once widely planted but where now less than 20 acres of Chenin vines remain.
Beautifully aromatic with notes of pear, apple blossom, lime and honeysuckle that transcend into complex layers of flint and hay, this classic Chenin is long and flavorful on the palate with mouthwatering notes of ripe melon, citrus rind and lemon meringue. This wine will delight casual wine drinkers and intrigue the most knowledgeable wine enthusiast.
Recommended pairings: halibut poached in olive oil, lemon and herbes de Provence, or a lean pork loin braised in orange juice with fennel, apricots, crushed bay leaves and thyme.
• 40 Cases Produced
• 100% Chenion Blanc
• Native Yeast Fermentation
• Aging: 17 Months in Neutral Oak
• Alcohol: 14.1% by Volume
• PH: 3.48
• Bottling Date: February 8, 2022
• 100% Palisades Vineyard
• Calistoga AVA
Au Revoir 2020 Rosé, Veeder Ridge Vineyard

Our rosé complements the warmth of summer and fall, but has enough character to drink all year long.
Emanating notes of wild strawberries, grapefruit, fresh melon, orange blossoms, and the mouthwatering brightness of our mountain site, our first release is the fitting Au Revoir 2020 Rosé, composed of a blend of estate grown Syrah (50%), Merlot (47%) and Chenin Blanc (3%).
This graceful wine combines the complexity of a red with the drinking ease of a rosé.
• 83 Cases Produced
• Native Yeast Fermentation
• Aging: Six Months in Neutral Oak
• Alcohol: 14.1% by Volume
• PH: 3.41
• Bottling Date: March 5, 2021
• Mount Veeder AVA
Our Winemaking Philosophy
It is an amazing privilege to make wine from our own vineyards in Calistoga and on Mount Veeder—our bookends to the Napa Valley. It is also a huge responsibility—one that we embrace. For us, careful and environmentally-sensitive farming in incredible locations is the first step in the making of fine wine. The grape varieties in our vineyards provide us with all the ingredients we need to make well-balanced wines of color, depth and beauty. In the cellar, our goal is to let the vineyards speak. We minimize intervention throughout the winemaking process starting with fermentation—preferring natural fermentation over commercial yeasts. Our French oak barrels are carefully chosen to enhance the natural characteristics of each lot. We don't strive for "typicity," we strive for "specificity" and "authenticity." We want the wine you pour from a bottle of Au Revoir wine to reflect the spectacular sites on which our grapes are grown.
— Felicia Woytak, Proprietor, Au Revoir Wines
Our Vineyard Team
Felicia Woytak and Steven Rasmussen
PROPRIETORS, Au Revoir Wines
Felicia and Steve live on Palisades Vineyard in Calistoga, in a canyon nestled below the iconic Palisades. They have evolved from wine enthusiasts to grape growers to amateur winemakers and now to proprietors of Au Revoir Wines. In 2019 they purchased Veeder Ridge Vineyard and have embarked on the complete redevelopment and replanting of this extraordinary Mount Veeder site.
Jim Munk
Vineyard Manager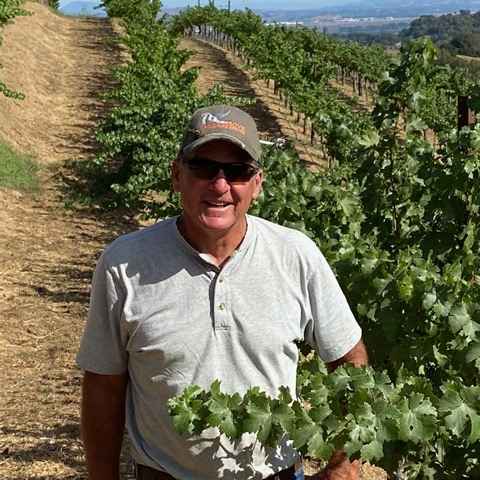 Jim is a Napa native who has been farming wine grapes since he was 15 years old. He learned the craft of viticulture under Louis Martini working on the historic Monte Rosso vineyard. After a long career managing and developing vineyards for numerous world class wineries, in 2009 Jim founded A Cut Above Viticultural Service, a boutique family-run vineyard management company with a mission to produce exceptional wine grapes for the crafting of exceptional wines.
Jennifer Rohrs, Ph.D.
Viticulturist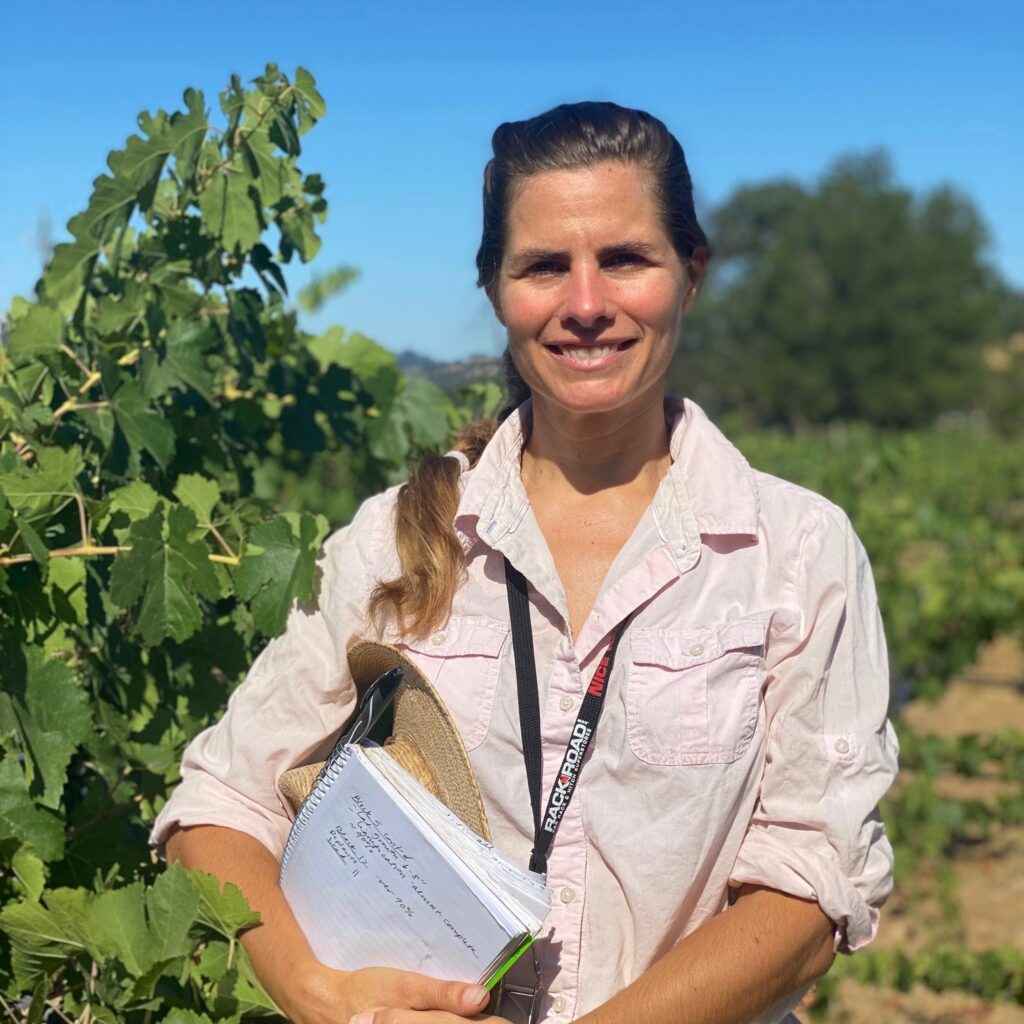 Jennifer brings her research background in plant pathology and physiology to her work. Since 2013 she has worked at wineries, vineyard management companies and consulting firms. She now manages Vine Ecology, her own consulting company. Jennifer has a Research Associate appointment with the Univ. of Calif. Cooperative Extension investigating tools that grape growers can use for virus detection. She is passionate about bringing science and new technology to our vineyards.
Juan Luis Vigil
Ranch Manager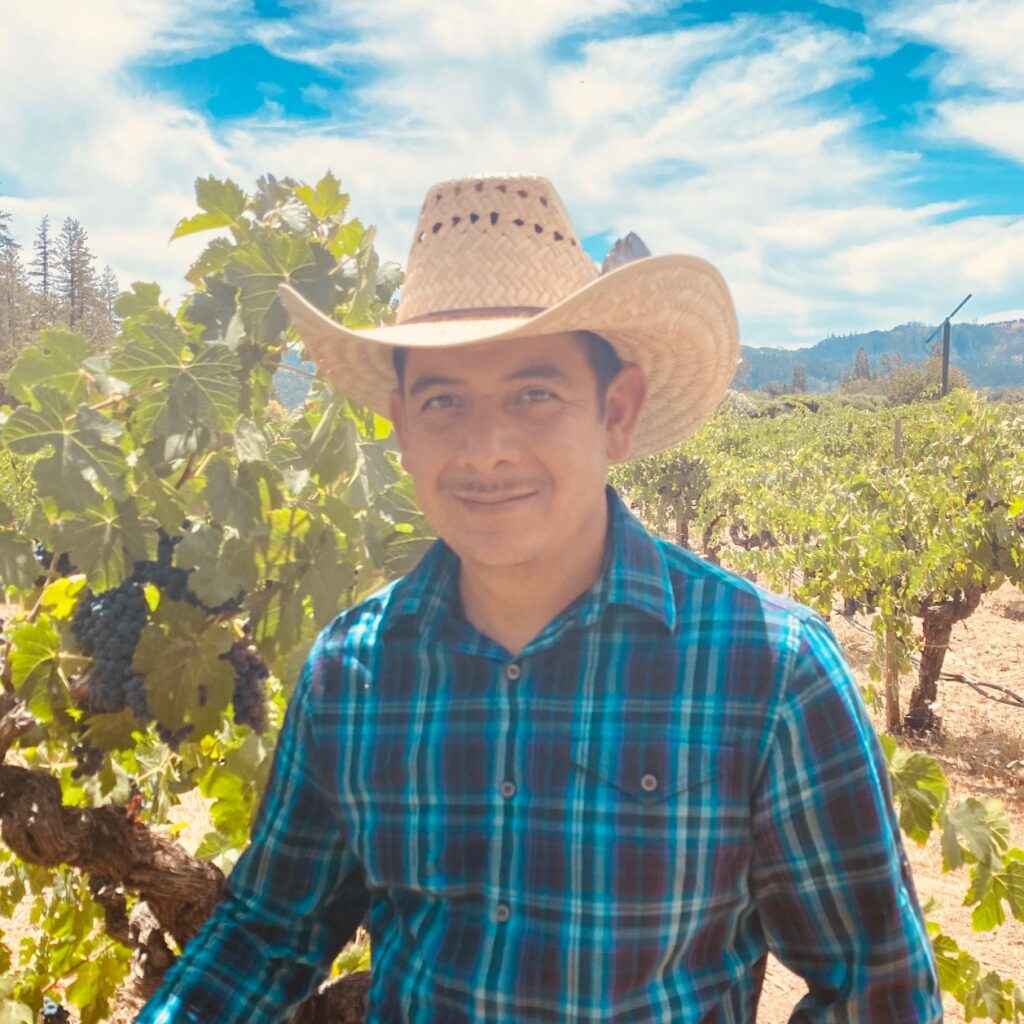 Juan Luis has lived in Napa Valley since the age of 13 and comes from a family with deep roots in the Calistoga community. He has worked in landscaping, construction, farming and hospitality. After many years at the Calistoga Ranch, he joined the team at Palisades Vineyard and Veeder Ridge in 2020. Now he looks after the non-farming aspects of ranch management for Historic Vines, the parent company of Au Revoir Wines.